Shrink Tunnels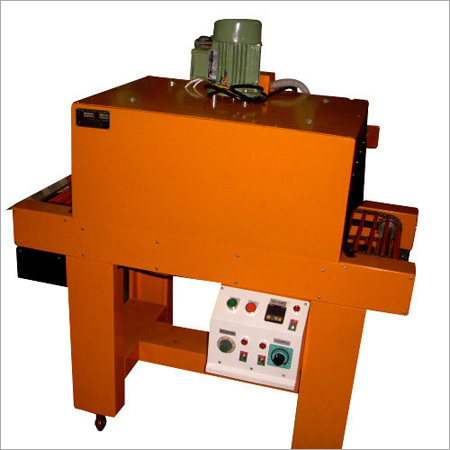 Shrink Tunnels
Product Description
In packaging operations, shrink tunnels, also known as heat shrink tunnels or shrink-wrap tunnels, are specialised machinery used to apply heat to shrinkable films, forcing them to precisely conform to the shape of the object being wrapped. To finish the shrink wrapping process, shrink tunnels are frequently used in conjunction with shrink wrapping machines or other packaging technologies.
The following are the main characteristics and elements often included in shrink tunnels:
1. Conveyor System: During the shrink wrapping process, goods are transported through the tunnel using a conveyor belt or other system. The conveyor guarantees even movement and appropriate heat exposure.
2. Heat Source: To create heat inside the tunnel, shrink tunnels utilise a heat source, usually heated elements or hot air circulation. The shrink film will receive even heating from the heat source.
3. Temperature Control: Shrink tunnels include temperature control settings to adjust the heat intensity based on the type of film, the specifications of the product, and the needs of the packaging.
4. Adjustable Airflow: Some shrink tunnels have airflow settings that can be changed, which can help regulate the way heat is distributed and how intense it is.
5. Construction of the Tunnel: Heat-resistant materials are used in the construction of shrink tunnels to survive the high temperatures produced during the shrinking process. Transparent panels in the tunnel could allow for visual monitoring of the products as they move through.
6. Safety Features: In order to ensure safe operation and avoid accidents, shrink tunnels have safety features including temperature sensors, thermal protection systems, and emergency stop buttons.
7. Shrink tunnels frequently incorporate variable speed controls to change the conveyor speed, giving them flexibility to match packaging needs and enhance the shrink wrapping procedure.
For packaging different products, including as food and beverages, cosmetics, pharmaceuticals, electronics, and more, shrink tunnels are utilised in a variety of sectors. The following are some advantages of shrink tunnels:
1. Enhanced Product Presentation: Shrink tunnels produce tight, expert-looking packaging that raises the product's marketability and aesthetic appeal.
2. Product protection: Shrink wrapping shields packed goods from dust, moisture, tampering, and other outside influences, preserving their quality and integrity.
3. Shrink tunnels are versatile because they can hold products of different forms, sizes, and materials, making them appropriate for a range of packaging requirements.
4. Increased production: Compared to manual shrink wrapping techniques, shrink tunnels enable faster packaging speeds, enhancing production and lowering labour costs.
5. Shrink-wrapped products frequently display tamper-evident traits, adding an extra degree of security and boosting customer confidence.
The size and weight of the products, film compatibility, desired conveyor speed, available space, and production needs are all things to take into account when choosing a shrink tunnel. You can select the ideal shrink tunnel that meets your unique packaging requirements by speaking with suppliers or manufacturers of packaging machinery.
Trade Information
Contact us for information regarding our sample policy

Depends