Shrink Packaging Machines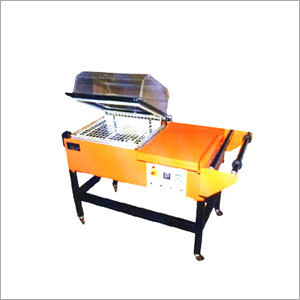 Shrink Packaging Machines
Product Description
Equipment used to package things by firmly wrapping them in shrinkable film is known as a shrink packaging machine, shrink wrap machine, or shrink wrapping machine. These devices use heat to shrink the film, mould it to the object, and produce a visually pleasing and protected package. For packing goods of diverse sizes and forms, shrink packaging machines are widely utilised in many sectors.
These are some of the typical models of shrink packing equipment:
1. L-Bar Sealers: For shrink wrapping single or numerous products, L-Bar Sealers are frequently employed. An "L"-shaped sealing bar is employed in these machines to seal the product, and the film is subsequently shrunk using a heat gun or heat tunnel.
2. Chamber Shrink Wrappers: A chamber shrink wrapper encloses a product inside of a shrink chamber that is then sealed with film. After that, the device uses heat to shrink the film inside the chamber.
3. Sleeve Wrappers: Sleeve wrappers enclose a product in a sleeve by using a continuous roll of shrink film. The film is heat-shrunk to fit securely around the object after being heat-sealed on both ends.
4. Products are wrapped in a continuous band of shrink film using side sealers. Heat is used to shrink the film surrounding the product after the machine seals the package's sides.
5. Shrink tunnels: To supply heat for shrinking the film, shrink tunnels are utilised in conjunction with other wrapping machinery. They have a system of conveyors that move the goods through a tunnel where heat is used to uniformly shrink the film.
Key characteristics and elements frequently seen in shrink packing equipment include:
1. Film Dispenser: The shrink film roll is held in place by a film dispenser, also known as a roll holder, in shrink packaging equipment. Typically, PVC, polyolefin, or another material that can be shrunk is used to create the film.
2. Heating Components: To apply heat and shrink the film, these machines employ heating components like heated wires, blades, or heat guns.
3. Adjusting the heat level based on the type of film, the product requirements, and the packaging parameters is possible with temperature control settings on shrink packaging machines.
4. Conveyor System: To ensure uniform and effective packing, many shrink packaging machines use a conveyor system to move the products through the machine.
5. Safety Features: To protect users and prevent accidents while in use, shrink packaging machines have safety features such emergency stop buttons, safety sensors, and guarding.
6. User Interface and Controls: To change settings, monitor operation, and troubleshoot problems, these devices offer an intuitive user interface with control buttons, switches, or a touchscreen panel.
The following advantages of shrink packing machines:
1. Product Protection: Shrink wrapping shields packed goods from airborne contaminants, moisture, and tampering while preserving their integrity for storage and transportation.
2. Improved Product Presentation: Products that have been shrink-wrapped look sleek and professional, which increases their eye appeal and marketability.
3. Enhanced Efficiency: Compared to manual wrapping, shrink packaging machines automate the packaging process, saving time and labour.
4. Shrink packaging machines are versatile in that they can handle a wide variety of product shapes and sizes, making them appropriate for a range of packaging requirements.
5. Cost savings: When compared to human wrapping techniques, automated shrink packaging equipment can lower labour costs and minimise film waste.
When choosing a shrink wrapping machine, it's important to take into account the product's dimensions, film compatibility, available space, and price range. You can choose the best machine for your unique needs by speaking with packing machinery providers or manufacturers.
Trade Information
Yes

Contact us for information regarding our sample policy
Depends

Asia Australia Central America North America South America Eastern Europe Western Europe Africa