Manual Chamber Shrink Machines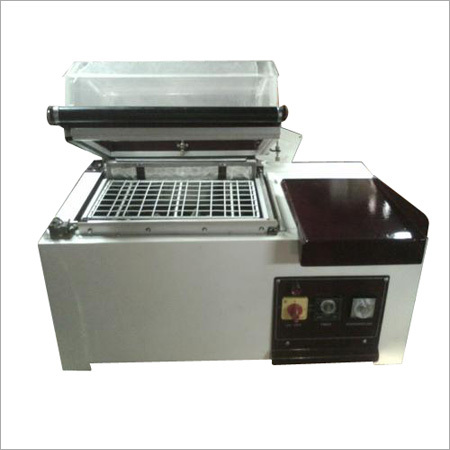 Manual Chamber Shrink Machines
Product Description
The compact and economical packaging devices known as manual chamber shrink machines are used to wrap products in shrinkable film. They are also referred to as manual shrink wrap machines or manual shrink tunnels. Usually employed for smaller-scale packaging processes or when only a modest amount of automation is necessary, these devices require manual operation.
The following are the main characteristics and parts that manual chamber shrink machines typically have:
1. The machine has a chamber or cage where the product is placed for wrapping, called a shrink chamber. The chamber often has clear walls for visibility and is constructed of heat-resistant materials.
2. Film Dispenser: Shrink film rolls are held in place by a film dispenser, also known as a roll holder, on manual chamber shrink machines. Typically, PVC, polyolefin, or another material that can be shrunk is used to create the film.
3. Heat Source: To heat the film inside the chamber, manual chamber shrink machines use a heat source, such as heated elements or a heat gun. The film shrinks and closely conforms to the product as a result of the heat.
4. Temperature Control: Depending on the type of film and the packaging requirements, these machines feature temperature control options to change the heat level.
5. Timer: To ensure regular and ideal shrinkage, manual chamber shrink machines frequently have a timer or timer control to set the length of heat application.
6. Safety Features: To prevent mishaps and guarantee operator safety, safety features such safety switches and heat protection systems are included.
7. User Interface: Simple control interfaces with buttons or switches are generally used by manual chamber shrink machines to operate the machine and change parameters.
For packaging single goods, things with a variety of sizes, or products in small numbers, manual chamber shrink machines are frequently employed. The following are some advantages of manual chamber shrink machines:
1. Cost-effectiveness: Manual chamber shrink machines are typically less expensive than automated shrink packaging machinery, making them appropriate for companies on a tight budget.
2. Compact Design: To save room in the packaging area, these machines can be quickly set up on a workbench or tabletop due to their compact footprints.
3. Versatility: Manual chamber shrink machines provide for a range of product shapes and sizes, allowing for versatility in the packaging of various goods.
4. Improved Product Presentation: Products that have been shrink-wrapped have a polished appearance that increases their aesthetic appeal and forms a barrier that protects them from dirt, moisture, and tampering.
5. Simple Operation: Manual chamber shrink machines are straightforward to use and require little training or technical knowledge. They are perfect for companies that only occasionally need packaging or have modest packing volumes.
It's vital to remember that manual chamber shrink machines need to manually load and unload products, and they could package products at a slower rate than automated systems. For smaller organisations or companies that don't need significant production rates, they do provide a cost-effective alternative.
The size and weight of the products, the suitability of the film, the available space, and the desired packing output are all things to take into account when thinking about a manual chamber shrink machine. You can choose the best machine for your unique packaging needs by speaking with suppliers or manufacturers of packaging equipment.
Trade Information
Yes

Contact us for information regarding our sample policy